How to Remediate Mold
Mold and mildew problems in your home are no laughing matter. For starters, mold is an indicator of another serious problem: excess moisture. Whether it's a roof leak, poor attic ventilation, or moisture problems in other areas of the home (basements are common problem areas), excess moisture can cause a large array of building materials to warp, stain, crack, fail, and rot. Furthermore, once mold sets in, serious health concerns come into play.
Consider Hiring a Mold Remediation Contractor
If you have a mold problem in your home, be it black mold, green mold, white mold, or any other color, your first step is to pick up the phone and call a mold remediation contractor. These specialists are licensed by the state you live in and educated in the safest, most efficient ways to eliminate mold from your home. Never try to tackle a mold problem by your lonesome.
You Can't Remove Mold until You've Fixed Your Moisture Problem
Mold remediation starts with fixing the source of your moisture problem. If you're experiencing mold in your attic, then roof leaks or poor ventilation are your most likely causes. If you have mold problems elsewhere in the home, everything from leaking plumbing to a seeping foundation could be to blame. Whatever the cause of your moisture issue, you need to get it fixed as soon as possible. Your mold problem isn't going to go away until you've addressed it, and you also risk serious structural and aesthetic damage to your home if you choose to ignore the problem.
Once your mold remediation contractor has identified and fixed the source of your moisture problem, they will then move on to removing the mold itself. The steps for mold remediation are the same, whether you're dealing with black mold, green mold, or another variety.
Seal off the area. Mold remediation always requires that you begin by sealing off the area with plastic sheeting and tape before you perform any work. This keeps potentially dangerous mold spores contained in the work area itself, instead of distributing the mold throughout the home.
Wet vacuum. A wet vacuum will clean up any standing water and water soaked surfaces, as well as vacuum up mold itself. Never use a dry vacuum to remove mold, however, since a dry vacuum is the perfect vehicle for launching mold spores into the air.
Kill the mold using an approved fungicide applied with either a sprayer or fogger. Never use bleach, as it is ineffective at killing, or keeping away, mold problems.
Clean the area thoroughly. Clean the area using whatever means necessary. This may include scrubbing, scraping, cleaning up dust and debris with a HEPA vacuum, and even removing building materials, furniture, and anything else contaminated by mold. Any materials that are removed should be sealed in plastic bags and labeled before being disposed of.
Dry out the Area. Finally, be sure to dry out the area thoroughly by using fans, dehumidifiers, and father time. If you don't dry it out completely before doing restoration work, you're very likely to have mold resurface again shortly down the road.If you've got black mold, green mold, or any other type, call a mold remediation specialist as soon as possible. Remember, your home and your health are riding on it.
Tips On Hiring Mold Removal Services
Having mold in your home or workplace can be quite challenging. Mold is not only harmful to your health but will also lower your home's value if not treated early enough. Experts suggest that you treat mold as soon as you notice and while it is still manageable. The health problems caused by mold usually come out as allergic reactions, causing illnesses such as asthma attacks, skin rashes and sneezing among other conditions. If you ever notice any mold in your home or office, you'll need to call a professional mold removal service provider.
Mold removal involves the use of various products and tools to kill the parasite that brings about the spread. Without proper use of these products and tools, mold will usually come back. This is why it is important that you only hire a professional to handle your case.
Choosing a Professional Mold Removal Service
There are many mold remediation services to choose from and deciding which one to select can be confusing. A simple Google search will present you with countless mold removal companies operating in your area, making it even more difficult to separate the good from the not-so-good.
Experience and Reputation
The first thing you need to check when considering a potential mold removal service is an experience. It is essential that you only choose a company that has been operating for an extended period of time. You also need to ensure the company you choose has a good reputation among previous customers by reading reviews from various sources. Before treating your home, a reliable company will first carry out an inspection before formulating strategies that will both get rid of your current predicament and prevent farther problems down the road.
License and Insurance
Mold removal services must adhere to strict rules and regulations before they are handed a license to run their business. Proof of license, therefore, indicates professionalism and you'll have more confidence in trusting your home to a licensed professional. Workers compensation insurance is an insurance policy that covers workers in case they get injured while working at your home. This type of cover will protect you from financial responsibility in case one or more workers get into accidents while at your premise.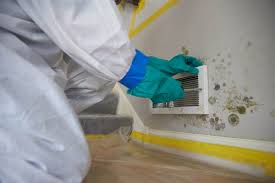 Residential & Commercial Mold Prevention Tips
For large moldy drywall jobs, we recommend that you contact a mold remediation professional to ensure the moldy sheetrock is properly removed to avoid cross contamination. They can also ensure the water leak or condensation source is identified and fixed. Use our online mold remediation contractor directory to find a water damage mold remediation professional in your area.
First turn off your heat or air conditioning and close/seal vents in the damaged room. Close or seal doorways, too. Mold spores will get airborne when removing mold damaged sheetrock. So sealing the room is important.
For maximum safety, professionals will tell you to use a fan to vent air in the room directly to the outside of the home.
Professionals will also tell you to use an industrial HEPA filter vacuum on the mold damaged surfaces to prevent mold spores from getting airborn during the moldy drywall removal process. We suggest using our Endurance BioBarrier Mold Prevention Spray on these moldy surfaces before removing. Let the spray penetrate for 24 hours to eliminate the mold spores.
Protect yourself against mold allergy symptoms by using a P100 mask, rubber gloves, goggles, and a body suit. After removing water and mold damaged drywall, be sure to check for mold that may have spread to the insulation and studs, plus the opposite side drywall behind the insulation. You may need to remove moldy insulation and the drywall on opposite side behind the insulation.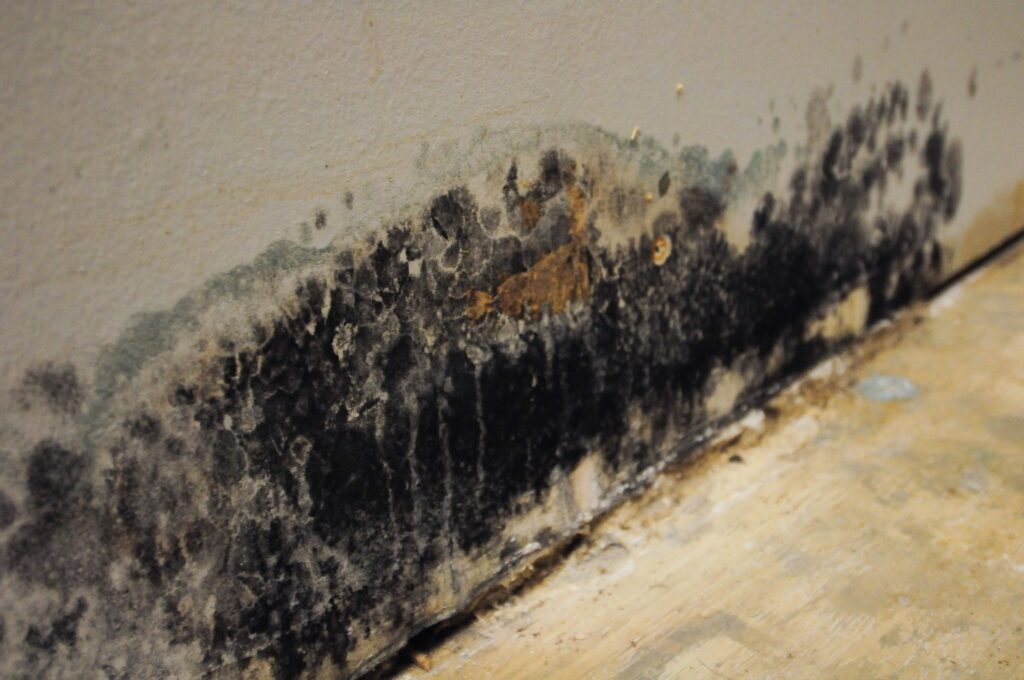 Top Tips for Mould Removal and Prevention
Whether you own or rent a property, mould can be a huge problem. On the one hand a mould infestation can affect your quality of living – especially if you suffer from asthma; on the other hand if the mould occurs during your tenancy you may be expected to cover the cost of the cleaning. A common problem in flats, apartments, and maisonettes, mould can strike any property. As with most issues in life, prevention is the best cure, although there are many ways you can deal with an existing mould problem.
Dry clothes outside
Wet clothes can be a major reason for damp and mould developing. From just one load of washing, over 2 litres of moisture is released into the air! Drying clothes outside may not be practical for everyone, as not everyone has access to an outdoor drying area. If you do need to dry your clothes indoors, ensure a window is opened to provide the much-needed ventilation that may prevent damp developing. You can also look into products such as this 'Moisture absorber' which is a low-cost solution to deal with excessive moisture in the air.
Open a window and shut the door!
If you are doing something that will release a lot of steam into the room, close the door and open a window. This applies to boiling a kettle, having a shower/bath, and cooking. If you have an extractor fan then this can really help to reduce the moisture, but closing the door will prevent the moisture from spreading into the other rooms of your house. If you don't have an extractor, be sure to open a window- especially in winter months where steam will condense on cool surfaces!
Furniture and Walls
Exterior walls are often slightly colder than interior walls and therefore more susceptible to damp and mould. Keep furniture away from these walls, instead placing them against interior walls. Another way to reduce your chances of mould is to leave a slight gap between all walls and furniture to leave room for air flow. If you have limited space, then try to regularly clean behind the furniture and ensure you dry the wall after you clean it.
Declutter
Overfilled cupboards are a breeding ground for mould as there isn't much air-flow. Adopt the Japanese method by Marie Kondo, and declutter your life (and cupboards) for mould-free joy!
TIPS YOU NEED TO CONSIDER WHEN CHOOSING A MOLD REMEDIATION COMPANY
Molds are silent intruders; they grow unnoticed in dark, moist and warm places or objects that are not used regularly, such as bags, shoes and other things made of leather. Cold and wet seasons are often the times when molds appear. The seven suggestions on how to choose a mold remediation company are: choose a remediation company wisely; examine the degree of infestation, count the cost of remediation, hire an expert, do research, seek advice, and compare and contrast services.
CHOOSE WISELY
The first thing you have to consider is to choose wisely. You have your property and money at stake, so be wise. Do not be fooled by appearances or offers of discounts and attractive offers. Trust your instincts and investigate.
EXAMINE THE DEGREE OF INFESTATION
Secondly, removing mold is not a DIY job. You need help in evaluating the condition of your residential or commercial unit. The bigger the place, the more mold problems could be hidden from your view. It takes an expert to examine the severity of the mold infestation and determine the proper treatment and cleaning.
COUNT THE COST OF REMEDIATION
Does your insurance cover some or all of the processes? ServiceMaster of Cobb works with your insurance company. Money is something that you have to be careful of especially when getting the services of a mold remediation company. You have to make sure that you get your money's worth. This can be measured by the quality of their performance and products, the length of warranty, and consumer satisfaction
HIRE AN EXPERT
A professional mold remediation company will be able to make a thorough evaluation of your property after mold has grown within your premises. You have to choose a company offering mold removal Cartersville that can be trusted because their technicians are well-trained and equipped for every residential or commercial mold remediation and related concerns.