Roof Buying Guide: Choosing the Right Roofing
If you're thinking about buying a new roof, be prepared to pick from possibilities that range from the familiar to materials you never knew existed. In this article, we'll help you become more acquainted with your options and the features you should consider when comparing one to another. Then we'll point you to more detailed information about each roofing material.
Some roofing materials, such as slate, wood shakes, and copper, have remained virtually unchanged for centuries. But a considerable array of other roofing materials have joined them, from the perennial favorite, asphalt-fiberglass, to newer products made from fiber cement, concrete, and plastic composites. Most of these have been developed over the past couple of decades with an eye toward greater durability, easier installation, lower cost, sustainability, and other features homeowners want
What to Consider
It's easy to fall into the pattern of just replacing your existing material with a newer version of the same thing. Though this often makes sense because you know that the existing material worked okay until recently, you may be missing an opportunity to upgrade the look and functionality of your home's roof.
Weather Barrier
Because your home's roof is the primary barrier between you and Mother Nature, it's critical to choose a material that will shelter your home reliably. It must shed rain and snow, hold up in wind, and endure the sun for many years. Depending upon your climate and the shape and orientation of your home's roof, some materials will do this job better than others.
Roof Slope
The slope of your roof's surface is a consideration that may eliminate some some roofing possibilities, especially if the slope is low. A roof's slope is the number of inches it rises for every 12 inches of horizontal "run." For example, a roof with a "4-in-12 slope" rises 4 inches for every 12 inches of horizontal run.
Choosing the Best Roof for Your Home
All kinds of roofs have advantages and disadvantages, so choosing the best roof material for your home is something that should be done carefully and thoughtfully. The average homeowner will spend between one and four percent of a home's value on maintenance and repairs each year. The percentage, and thus the maintenance cost, will increase consistently as the house grows older. As a general rule, a roof should be inspected at least once a year. However, the frequency of roof inspection and maintenance will depend upon the environment around your home, and the type of roofing material used
Asphalt shingles
Asphalt shingles come in a variety of colors to choose from, have a relatively low cost, are easy to install, and are durable enough to walk on without causing damage.
Wood shakes
Wood shakes improve attic ventilation, and they're beautiful and unique looking. However, they can be difficult to install. Plus, mold and insects can be a problem.
Clay tile
Clay tiles have a long life span, won't burn or rot, and come in a variety of colors to choose from. However, tile can be heavy, requiring extra roof support. Plus, they're fragile and more expensive.
Slate
Slate roofs can be laid out in a variety of patterns, provide fire protection, and they're not vulnerable to insects or rotting. At the same time, slate roofs can be expensive, very heavy, and fragile
Residential Roof Installation
Investment
The investment in your roof is one of the biggest investments you will make on your home. It is important to choose the right materials and the right team to install them. Otherwise, you may be spending more than you bargained for on repairs. When it comes to professional residential roof installation around the Branford, CT area, Amity Home Maintenance Solutions has been the leading provider for over 35 years. Our years of knowledge and experience has allowed us to work with a variety of roofing materials. Our dedication to 110% customer service has brought us to partner with only the best roofing material manufacturers in the business, ensuring that you not only get quality service but also quality materials
Roof Installation Process
Roof installation is a large job that requires a lot of planning and precision. Our main goal when installing a new roof is to ensure that the job is done correctly and that it is done safely. This is why we use only the best techniques and safety procedures when working with your roof.
Ensuring the Protection of Your Home
Safety is our number one concern, therefore we take extra steps to ensure that no debris can damage your home. We lay protective tarps down and across the vulnerable areas of your home, to ensure that debris doesn't damage siding, windows, doors, or any other part of your home that it may come in contact with.
Removing of Old Material or Inspection of the Wood Decking
In order to ensure that your new roof is properly installed and secure on your home, we need to inspect the wood decking underneath. For a roof replacement, this requires removing the older roof material. Once the old material is taken off, then an inspection can begin. This is to ensure the structural integrity of the home is still strong. If not, then it needs to be repaired before moving on with the installation process.
Preparing for New Shingle Installation
Once the wood deck is checked off as being stable, it is then time to move on with ensuring that the wood deck is prepped for the new roofing. This includes installing any drip edges to ensure moisture doesn't slip underneath the roof and putting down insulation or ice and water shields to reinforce the roofing materials.
Roof Installation Tips for First-Time Homeowners
Building a home from the ground up is incredibly exciting. It gives you the opportunity to create the home as you envision it, from the basement floor to the rooftop. However, first-time homeowners should understand that choosing something such as a roof isn't as simple as going with what looks the nicest. Take a look at this guide to roof installation tips for first-time homeowners to understand the important process you'll have to follow before installing your roof—and even after you install it
Find the right roof contractor
When you're choosing a contactor to install your roof, don't just choose the first one that pops up on Google. You have to do your research to make sure you find a good, reputable contractor. The first time you speak to a contractor should be similar to an interview. Ask for examples of previous employers and projects they've completed so that you can understand how good the contractor is. You'll also have to make sure the contractor has the proper certification and insurance to carry out an installation project. Plus, your contractor shouldn't just know how to install rooftops; they should also know how to install the specific roofing material you've chosen to use.
Carefully consider your roofing material
Asphalt shingles are a common material used for roofing, which is why some first-time homeowners don't give it a second thought. However, choosing the roof material is just as important as choosing your contractor—if not more so. For instance, if you're an eco-friendly household, you may be happier with metal roofing. This type of roofing has many well-known green benefits, such as its waste reduction properties. For instance, while asphalt shingles are often tossed into landfills, metal roofing can be reused. In fact, metal roofing has a lifespan twice the length of that of asphalt roofing. Once you have the right contractor and material, you're ready for installation.
Understand regular maintenance
It's important to know that different roofing materials come with different maintenance requirements. Whichever material you choose to go with, your job isn't done when the roof is installed. While you reside at the home, you'll have to keep an eye out for a few different things. First off, keep an eye on any corrosion or buildup on the roof that will require cleaning or replacing of the material. Additionally, you'll have to clean out any debris from the gutters attached to your rooftop. You should also go up to your attic periodically to inspect for any leaks or protrusions coming through the roof.
Following these roof installation tips for first-time homeowners will help you ensure your roofing process goes smoothly, from the moment you move in until the day you move out. With the proper installation and maintenance techniques, your roofing can be a great asset to you and your home for decades.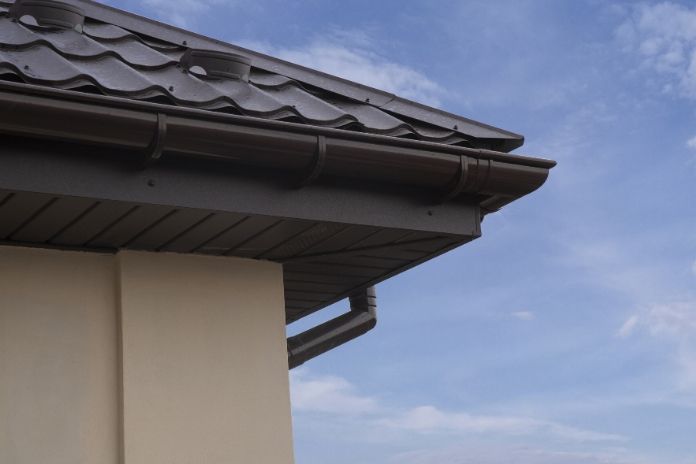 Choosing Roofing Materials
For most of us the roof is an afterthought—at least until it starts to leak. Then we realize how critical that surface of our house's exterior really is. Yet, as well as keeping the house dry, the roof contributes greatly to the look of the house, so when building a new house, adding on, or re-roofing, it may pay to consider the options. Right now there are more options in the marketplace than ever, so choosing one is tough. I know because I am in the midst of selecting a roof for my cabin in Maine, and every time I know what I want I look at one of the other options and begin to change my mind! The choices range from asphalt shingles to wood shakes and clay tiles, from steel panels to rubber lookalike slate. The most important trend to note, however, is that as with home-construction materials in general, there is an increasing move towards engineered roofing materials. This change is being driven by a few different factors. One is simply the high cost of wood. The second is that in many cases, codes now mandate the use of fireproof construction materials. And third, people understandably want to build with materials that not only look good but also are very long-lived.
Asphalt Shingles
The roofing material we all see the most of these days—the one that covers the roofs of a great majority of houses across America—is the standard three-tab asphalt shingle. One of the least-expensive roofing options, asphalt shingles are available in a dozen or so different colors both solid and blended. The shingle products being made today are usually guaranteed for 20, or in some cases 30 years, making them an excellent value. Value is the principal advantage of this roofing material, which explains it's commonality. The disadvantage, however, if there could be said to be one, is the fact that it is so common. The next upgrade from a standard three-tab is a thicker variation called an architectural shingle. These shingles are built up to be about twice as thick as a normal shingle with the layers staggered to give them a heavier, more substantial or "architectural" look. In some colors they resemble slate, and in other colors wood shakes. We used architectural shingles on the Lexington ranch house. With only a modest upgrade in cost and up to a 30-year guarantee, architectural shingles also represent an excellent value with an added touch of style.
Shingles, Shakes…
For looks, it is hard to beat a wood shingle roof. Over time it weathers out to a gray or soft silver that seems to root the house to the landscape. Several species are used: Western Red Cedar, Alaskan Yellow Cedar and Eastern White Cedar. Shingles are relatively smooth and cut to a uniform thickness, although they vary in width. Wood shakes are thicker and rougher, being split rather than sawn from the logs. Wood roofs are meant to breathe and should be laid over a substrate that allows air to circulate behind them: skip sheathing—wood strips or battens nailed directly to the roof rafters—is the traditional method of installing a wood shingle roof. About 10 years ago we began using a plastic matrix product that is something like a scrubby pad, which allows air to circulate behind the shingles. This product can be laid on top of a building-paper-coated plywood roof deck, making it ideal for a retrofit. Another method of getting air circulation behind the shingles is to lay them on pressure-treated lattice. For all their great looks, shingles and shakes are expensive to install and do require some periodic maintenance, typically in the form of washing to remove any mildew or moss, and then re-oiling with a clear wood finishing product. On our current Shingle-style project here in Manchester, Massachusetts, we're using a wood shingle that is new to us: pressure-treated Southern Yellow Pine, which grays out in a few years to resemble cedar and is said to require no maintenance at all. A properly installed and maintained wood roof should last at least 30 to 50 years. In fact, we have seen roofs on which the shingles were still good after 25 years or so, but the galvanized nails were finally rusting, so be sure to use a high-quality stainless-steel nail!
And Fakes
Originally, our Craftsman-style bungalow in Santa Barbara, California, would have been clad in a combination of wood shingles and shakes, because the building needed that shaggy rough-hewn appearance to look authentic. However, because of fire danger, local codes now require all roofing materials to be fireproof. Accordingly, we used a heavy architectural asphalt shingle on the roof, and a cementitious shingle manufactured to look like a wood shake for the side walls — although they are suitable for use on the roof as well. Use of these "fake" shakes is rapidly increasing, both because they satisfy the strict fire codes in the West and because they are long lived and require no maintenance.
Slate and Fake Slate
In the Northeast slate was a traditional roofing material for high-end houses and municipal buildings. It is beautiful, lasts for generations, sheds ice and snow, and is very expensive. Because of its cost and weight, which requires a beefier roof structure to support, slate is not often used these days. Yet on our Billerica project, rebuilding Dick Silva's burnt-out family home, we wanted the slate look. Again we turned to an "engineered" product, this time a slate lookalike fabricated from recycled rubber and plastic. At only about one-third the weight and cost of slate, these shingles can be installed using standard tools and techniques. From the street, the discerning eye might be able to tell the difference between engineered and the real McCoy, but most of us would be very house-proud with one of these roofs on our homes. Plus, these shingles are guaranteed to last for as long as 50 years.