The Top Surface Finishes for Hardwood Flooring
Hardwood flooring is available with a number of distinct surface finishes that not only enhance the wood grain, but also help protect the floor. Whether you're looking for a shiny, high-gloss finish or something a little more matte, hardwood top coatings provide plenty of options. Below are some of the top surface finishes for hardwood to note when choosing etiher solid or engineered hardwood flooring for your home.
Surface Finishes for Hardwood: The Options
Water-Based Polyurethane
Arguably the most popular surface finish for hardwood flooring, water-based polyurethane provides a clear finish and has the traditional hardwood look and feel. Traditionally, this smooth, lustrous finish gives solid and engineered hardwood floors the signature wet look, achieved by using multiple coats of high-gloss polyurethane. However, water-based polyurethane finishes also come in satin and semigloss.
Most high-gloss polyurethane hardwood flooring is prefinished in the factory. This makes installation much faster. Thanks to the high sheen, cleaning this hardwood finish is easy, although scratches, pet hair, and other imperfections do tend to stand out. Oil-based polyurethane is another urethane option, although it can yellow over time.
Oil Sealer
Oil sealer or penetrating oil sealer is a wise choice if you're planning on finishing your hardwood floors yourself. It's pretty straightforward for DIYers to apply. It doesn't dry as hard as the polyurethane mentioned above, but the penetrating process brings out grain patterns and enhances the color of the wood. This finish also allows for touch ups later on.
The main benefit of oil sealer is the low-gloss, natural look it brings to flooring. It is ideal for antique and traditional style homes. The main ingredient in most oil sealers is tung oil. Tung oil is naturally derived and not permanent. You will need to reapply oil sealers every three to five years. This type of finish also has a longer drying time (24 to 48 hours per coat) and requires several coats.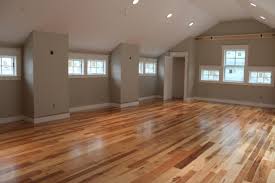 Hard-Wax Oil
If you're looking for a natural finish that's easy to apply, hard-waxoil offers a warm look. It also provides excellent protection. Although wax treatments for hardwood may be considered outdated by some, they're growing in popularity again. It's perfect for those who want a low luster finish that's easy to touch up.
Most hard-wax oil finishes for hardwood are DIY-friendly in terms of application. Due to the finishes' low durability and susceptibility to staining, reapplying the wax finish is an ongoing process. This is generally recommended to be repeated every two to three years.
Acid Cured
Also called a Swedish finish, acid-cured finishes are extremely durable — more so than polyurethane. This type of finish is ideal for smooth-textured flooring and exotic woods that need extra protection. However, acid-cured finishes have high toxicity levels during the curing process. This toxicity can last anywhere from three days to an entire month, depending on the relative humidity.
Aluminum Oxide
The king of durable finishes is aluminum oxide, which lasts up to 25 years. This is especially beneficial for engineered hardwood floors because they often have a thinner veneer that doesn't lend itself to sanding and refinishing.
Prefinished planks are your only option if you choose hardwood with an aluminum oxide finish. This limitation is due to the application and drying equipment used in the finishing process. This makes installation faster than traditional on-site sanding and finishing.
Two Options for Refinishing
Does your floor need a touch-up or an overhaul?
Touch-up. For surface scratches and normal wear and tear, lightly sand the finish (called screening) and apply a new topcoat. You'll want to use the same type of finish product that was on your flooring originally.
Overhaul. For more damaged flooring, you'll want to completely sand the old finish off down to the bare wood. Once you've done that, you can apply any finish.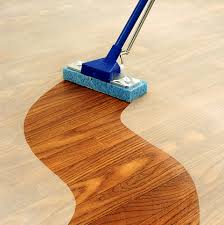 Selecting a hardwood flooring finish
How to decide? Think about how the room will be used and exactly how you want the hardwood floors to look after the finish has been applied.
Most of the available options also give you a choice of sheen. The higher the gloss finish, the more noticeable scratch marks and scuffing will be. A smooth or matte finish will reflect less light and is much more practical. A less glossy finish or a satin sheen will give your hardwood floor a more traditional appearance.
Your final flooring finish decision should be based on:
• How durable the finish needs to be.
• Whether the floor needs special moisture protection.
• Exactly how you want the hardwood floor to be treated.
What is the hardest wood floor finish?
The hardest wood floor finish is aluminum oxide, but it only comes on prefinished boards. If you want something durable you can add after installation, acid-cured is your best bet.
Do you need to seal hardwood floors?
You have to seal unfinished hardwood floors to protect them from scratches and stains. The frequency depends on the type. For example, polyurethane products usually need refinishing every 3 to 5 years.
What's the difference between wood stain and finish?
Wood stain adds a color to the surface. A finish adds a level of shine (e.g. matte, low-gloss, high-gloss) and seals the grain to protect against damage.