How to keep your hardwood floors looking fantastic
New hardwood floors — or restored old ones — can be a beautiful addition to your home. But they're also a huge investment.
You can make that investment last longer with some simple care tips. Here's how to keep your hardwood floors looking great, long after the installation or renovation.
Start with a clean sweep
You need to sweep hardwood once a day, but your typical broom isn't going to cut it. Invest in a dust mop such as the O-Cedar Dual-Action Microfiber Sweeper (which is what I use) or something similar. These mops have wide heads that trap dust without making micro scratches in the floor's finish.
Be sure to push the mop in one direction and swivel to turn. Don't lift the head of the mop off the floor until you're done. If you lift the mop prematurely, dust and lint will be released into the air and you'll need to re-mop the area you just finished. I learned this trick when I was a school janitor cleaning gymnasium floors way back in the day.
When you're done, there will be a line of gunk where your mop stopped. Use a small microfiber brush and dustpan to gather it up. Then place the end of the mop into a garbage sack. Close the opening of the sack around the handle with your hand and give the mop a good shake to release trapped dust and debris.
Keep it dry
This may be counter to what you've learned about housekeeping, but don't use wet mops or steam mops on your wood floors. The moisture can damage the finish and may even harm the wood after a while, according to the National Wood Flooring Association. Instead, use a cleaner that's made for wood floors. Many of these products are formulated to work with the type of finish you have on your floors, so make sure you read the labels before you make a purchase. Carefully follow the directions on the bottle when you clean. It's usually recommended that you clean your floors only once a month with cleanser.
Beyond cleaning
Cleaning your hardwood floors properly isn't the only thing that will keep them nice. You also need to take some preventative measures. Clean up spills or any other moisture right away to avoid damage to the wood. A damp cotton or microfiber cloth is ideal for spot cleaning. Consider applying a UV coating on your home's windows. UV rays can bleach the hardwood over time, leaving discolored spots on areas that get the most sunlight.
Finally: Pointy things are bad. Don't sashay across the floor in high heel shoes, for example. The pointy heel can leave divots in the wood. Furniture legs can also leave imprints and scratches, so be sure to put felt floor protectors on the bottom of each leg.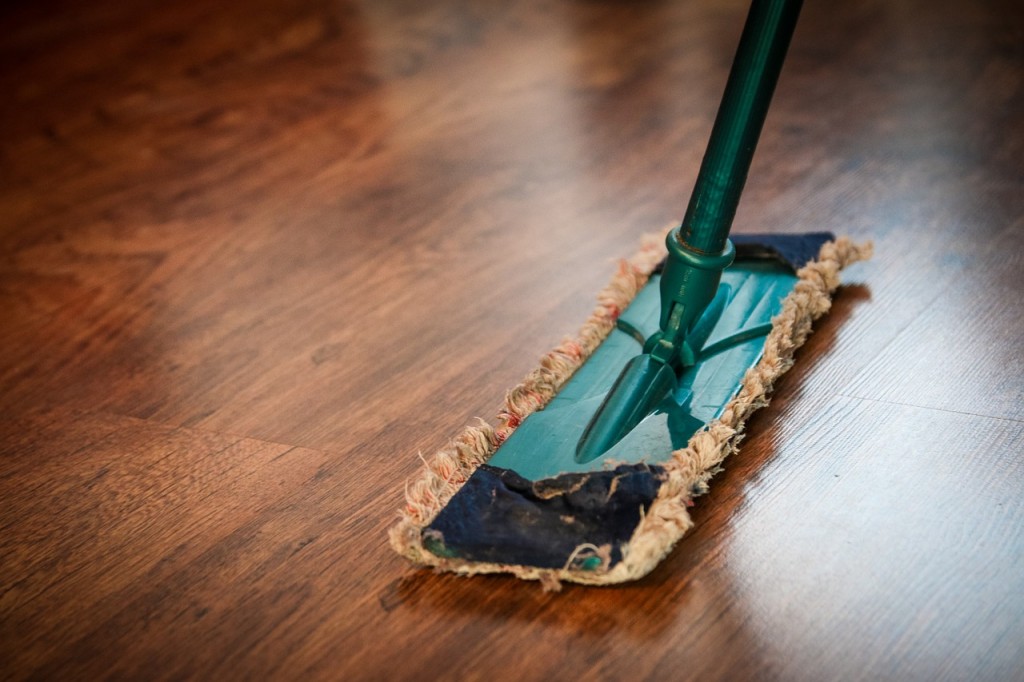 Is Steam Cleaning Safe for Your Hardwood?
Despite what the appliance companies would have you believe, you should never use a steam mop on a hardwood floor. The pictures on the company websites and boxes of these gadgets often feature a person cleaning and happily ruining their hardwood floors with this expensive appliance.
The intense heat drives the moisture deep into the wood and causes irreparable damage. After just a one or two cleanings with a steam mop, planks can shrink or swell, buckle, splinter, delaminate, and look aged well beyond their years.
You can potentially use a steam mop on hardwood if you're confident your floors have been sealed, and that the hardwood seal is still in-tact. To test this, drip a small amount of water on your floor. If it beads up right away, the seal is likely still intact and. If the water seeps into your wood or runs without beading, your floors need to be resealed.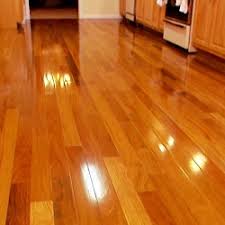 Things To Think About
High quality microfiber mop pads will make cleaning your floor easy, but not everyone that looks the same, cleans the same. If you get one that has pads made from superior material, it will take you less time to do the job, and you will use less energy. As an added benefit, you will also polish the wood as you remove dirt. Because you are not introducing a bunch of moisture, you never run any risk of damage, and based upon the super gentle material, you will never mark or scratch the surface either.
The broom you choose is also important. With such a wide variety out there, usefulness certainly varies, but so does safeness. If you use a low quality tool to sweep your wood floors, then you can scratch them up or ruin the finish, and that is on top of getting frustrated over removing the dirt. We always suggest a rubber broom for hardwood because they are gentle on the surface, but they also remove dirt with amazing efficiency. Other models may work as well, but these have proven to outperform most other options. The rubber bristles form a solid wall to sweep up debris in a single pass, and a slight charge that builds prevents annoying stuff like fur balls and dust that flies away. With a little bit of preventative maintenance and some common sense, you will be able to keep your hardwood floor looking fabulous for many years. There are only a few simple steps and rules to follow when dealing with hardwood flooring because it is actually one of the easiest flooring types to care for.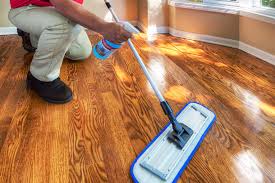 Hardwood Flooring Maintenance
KEEPING YOUR HARDWOOD FLOORS LOOKING NEW
Hardwood floors are an elegant addition to any home, but they need a little TLC to keep them looking fantastic. Rather than just hoping for the best, you can learn all about hardwood flooring care and ensure that you treat those beautiful planks right. Here are a few tips and tricks that are easy to follow and sure to work.
PROTECTION FROM FEET
While you may worry about people walking over the floor in hard-soled shoes, the bigger concern is actually the feet on your furniture. If you can arrange the furniture so that it sits on area rugs, that's the ideal solution. Any furniture legs that are directly on the hardwood will be prone to sliding, and that will lead to localized scratching. Put felt pads on the bottoms of all legs to protect the floor. They come in a range of sizes, and they have stick-on backs for easy application. Replace them as they wear down.
INVEST IN THE RIGHT CLEANERS
As you learn how to care for your hardwood floor, you'll discover that there are countless products to choose from. The trick is actually to base it on what's in your house. Older floors that have worn finishes may benefit from lemon oil to nourish the wood and keep it moisturized. New floors that have been finished at the factory should be cleaned using specialized products like Bruce Hardwood Floor Cleaner.
NEVER USE RUBBER
This is one of those hard and fast rules of hardwood flooring care that you'll want to embrace. You can buy rubber mats to go under area rugs, but you'll damage the floor by doing so. The rubber chokes the wood, prevents it from breathing and leads to discoloration. Use heavy furniture on a few edges of the rug to keep it in place, and try to reposition the carpet regularly.
Learning how to care for your hardwood floor isn't as hard as you might think. Use place mats at the doors to capture dirt before it can be tracked on the floor, and encourage your family to take their shoes off before moving around the house. By following these rules and the ones listed above, you'll be able to keep those beautiful wood floors looking amazing.
Things That Should Never, Ever Touch A Hardwood Floor:
Wet mops: The #1 source of damage to finishes – Although people might think that sloshing a soaking wet mop back and forth over their floors is a good idea, this will actually ruin the finish and damage the wood itself. A mop that is used to clean hardwood floors should only be slightly damp.
Vinegar is good for cleaning many things, but not hardwood floors – White vinegar was once a popular product used to clean hardwood floors. And a quick Google search reveals that a lot of people still recommend using it. But vinegar should not be used as a hardwood floor cleaner because its acidity can lead to etching in the wood's surface.
Don't use ammonia to clean hardwood floors
Avoid ammonia – Ammonia will discolor, deteriorate, and dull the finish. Using ammonia to clean a wood floor will take years off of its life.
Steam cleaners are bad news – You should only use steam cleaners on carpets and other surfaces that they are designed for. Using a steam cleaner on a hardwood floor can cause peeling, cracking, and cloudiness in the finish.
Popular cleaning products – Most of the cleaning products sold in grocery stores aren't friendly to wood. They'll damage the finish if used over a long period of time. Pair one of these products with a soaking wet mop and you've got a recipe for disaster.