Family Law
The divorce process is long, complicated, and confusing, but it doesn't have to be. By knowing where to start, what to expect, and which issues to address, you can best position yourself to overcome many of the obstacles you may be faced with during a divorce.
The first step in a divorce is to determine if divorce is necessary, unavoidable, or already decided. Often this answer will be clear. Often you or your spouse will have already decided on divorce. If this is unclear however, take steps to repair your marriage before proceeding with divorce. Divorce should be your last step, not your first
Once you have decided that divorce is the best option for you and your family, or that it is unavoidable, you should begin divorce preparation. Take a deep breath and examine what you have going on. Consider your finances, your emotional state, and resources. It can be very helpful to take the time to create an exit strategy
Make a projected budget. This is an important first step that will give you the clarity to understand your financial needs moving forward. Take the time to fully understand your income and expenses.
Protect sensitive and private information. Change your email and computer passwords along with other important login information. While you may not necessarily be doing anything wrong, divorce is an emotional time and you should protect yourself from any negative actions your spouse may intentionally or unintentionally take against you with the access they have to your private accounts.
Sever financial ties by opening your own bank account. Keep enough funds to support yourself and your children pending a divorce. Be careful not to transfer funds that could possibly belong to your spouse.
Keep a journal of all facts, times, dates, and events surrounding your marriage, children, and divorce. This will likely be helpful for you and your lawyer moving forward.
Speak with an attorney about your rights and get advice specific to your situation. Divorce is a complicated process. It will be very helpful to spend an hour or two getting advice about how to move forward and better work through your specific needs.
Take the time to talk to your spouse about wanting a divorce. This will likely be a difficult conversation, but it is a necessary step. Take the time to explain, calmly and with clarity, your intentions with the divorce. This is an opportunity to mitigate the irreparable trauma and complications of the divorce.
When you are ready, reach out to your close family and friends for support. The divorce process can be long and frustrating. Those nearest to you are often the ones who can help you the most during this time in your life.
How to choose a divorce lawyer
Divorces are filled with complex legal, financial, and emotional issues that vary from person to person. Therefore, you should choose an attorney who is best suited for you and your particular circumstances. To get started, you will want to choose an attorney who is experienced in family law and who has a good reputation. Reach out to friends and family to ask if they can recommend an attorney. Or visit professional websites such as LinkedIn and Avvo. These websites will provide you with information about potential attorneys, reviews, and helpful links.
Once you have identified a list of potential family law attorneys, your next step is to call the attorney's office and ask to discuss your case. This is a great opportunity to ask about the firm's experience, costs, and how they can assist you given your specific needs. Then, when you feel comfortable and confident with an attorney, should you hire one.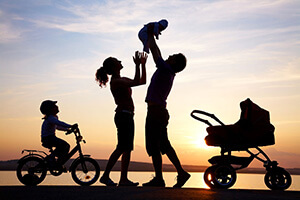 Not All Divorces Are The Same
There are not many situations have not seen and successfully resolved. are respected lawyers in field and in the courts. are often appointed by family court judges to serve as guardian ad litem for minor children. skills and years of experience can make the process less stressful, more effective and efficient
Firm For Family Law Issues
Facing family issues can be a stressful time. But with experienced and compassionate guidance, even the most complex issues and strained situations can have a positive outcome.
Advocacy And Resolution
understand the stress, anxiety and emotion that affect men and women who are involved in family conflict. work with you and advocate for you to find the most feasible and best solution.
Helping You With A Variety Of Issues
With over 30 years of combined family law experience, attorneys are able to guide you through your family law issue. have extensive experience assisting clients with the following matters:
Mediation, pro se divorce mediation
Custody and visitation rights for grandparents
Paternity
Divorce proceedings
Child support
Child custody and placement
Relocations
Collaborative divorce proceedings
Understanding family law
As a small law firm, provide a great level of personal attention that you need during such a highly emotional time period. family law practice includes all matters related to divorce and issues with children.
Experienced. Aggressive. Affordable
Going through a divorce isn't something anyone expects when they get married, but sometimes a marriage fails and there is simply no other choice. However, divorce is one of the most stressful things a person will ever face, and this is especially true when children are involved.
If you're thinking about a divorce or have been served with divorce papers, now is the time to protect your own interests and contact a County divorce attorney who can help you figure out what to do next. The choices you make now will affect you for the rest of your life. If you have children, their lives are going to change dramatically as well.
understand what's at stake in every divorce case and family law matter, so always treat it with the importance it deserves. aggressively pursue client's interests and ensure that their voice is heard by acting as their personal advocate with the Family Court. are also skilled negotiators who will tirelessly to achieve realistic goals when working with your ex-spouse and their attorney to determiner important issues involving property division, alimony, child support and child custody.
divorce lawyers are ready to help you with any of the following issues:
Divorce
Collaborative divorce
Child custody
Child support
Custody and support modifications
Spousal support (alimony)
Adoption
Protection orders
Temporary support
Parenting plans
Child relocation
Military divorce
Same sex couple's divorce
Prenuptial agreements
Paternity
Large asset cases
Uncontested Divorce
family law and have many years of experience, there are few situations we haven't encountered. Still, your situation is unique and requires personalized attention from an attorney who cares about the end result.
Family Lawyers
Divorce Mediation
The end of a marriage can be intensely stressful. Emotions often flare as a couple tries to resolve issues like alimony, child custody, and child support. Unfortunately, the traditional divorce process can deepen hostility between the spouses when they confront important questions concerning their future. In many situations, couples whose relationship is not abusive or completely broken should consider pursuing an alternative to divorce through the courts.
This alternative can consist of asking a neutral mediator to help the couple settle property distribution, child and spousal support, and all of the other key issues that arise when a marriage ends. A mediator can listen to the interests of each spouse, tell them how a court would rule on any disputed issue, and help them draft a divorce agreement that a court is likely to approve. People often find mediators through personal referrals, but it is also possible to find a capable mediator online or by asking your lawyer for a suggestion. However, the lawyer of either spouse may not be the mediator.
Mediation has been successful for many divorcing spouses seeking to make a plan for the future that satisfies each of them. It may be a much less expensive and time-consuming process than going to court for hearings, and everything that is discussed during mediation remains confidential (as opposed to litigation proceedings, which are public hearings). Mediation offers spouses more flexibility than the traditional divorce process because they can make their own decisions on key issues, within legal limits, rather than asking a court to make them. Entrusting a court with deciding who lives with your child or how much alimony you have to pay can be a nerve-wracking experience. Mediation allows you to avoid that unpredictability and is more likely to produce a stable long-term result.
Although it may sound like arbitration, mediation is a distinctly different process. In a binding arbitration (not all arbitrations are binding), the arbitrator essentially functions as a judge, making decisions that are binding on each spouse, whereas a mediator cannot make binding decisions. If the spouses reach an impasse in their negotiations, a mediator may recommend a solution. But a mediator cannot force you to reach a settlement.
Many states have begun to require that divorcing spouses go to mediation for certain sensitive issues, especially child custody and visitation rights. The main difference between court-ordered and private mediation is that private mediation can cover many more issues related to divorce. For example, you can use it to divide your property or handle other financial matters. To make mediation as effective as possible, you should listen to your spouse and leave your mind open to compromise. Sometimes starting with relatively minor issues is a good way to open this conversation before addressing more important and contested areas.
Estate planning & divorce?
An estate planning lawyer is an attorney who is knowledgeable and experienced in all aspects of estate planning and is capable of creating comprehensive estate plans tailored to individual needs. Estate planning attorneys review, analyze and make recommendations regarding personal and administrative aspects of a client's assets. They need to have a good understanding of the process of probate, as well as a good understanding of the potential future effects of various taxes, including estate, gift, and income taxes.
While not everyone will require the kind of complex plan that would be suitable for a wealthy person, or for a person with many different types of assets, even those of modest means often have specific concerns that an estate planning attorney can address. Estate planning attorneys are familiar with the wide variety of planning instruments available to help people on all economic levels provide for their own future health care and financial needs, as well as for the future needs of their family members or other beneficiaries.
What is the Difference between an Estate Planning Attorney and a Family Law Attorney?
While both estate planning attorneys and family law attorneys are concerned with issues that involve the well-being of families, family law attorneys focus primarily on matters related to divorce and parenting, while estate planning attorneys focus primarily on protecting assets, preparing for future health care needs, and creating plans for asset distribution. The two practice areas are interrelated and sometimes overlap. For example, a prenuptial agreement may be coordinated with an estate plan. People going through a divorce need to know how property distribution in the divorce will affect their estate plan. They may need to revise estate planning documents to ensure that a former spouse does not continue as an unintended beneficiary, or does not retain the power to make medical decisions. There are many documents beyond wills or trusts that may be affected.
Characteristics of Good Estate Planning Attorneys
If you are looking for an estate planning attorney, you probably already know that you will need someone who is well-versed in the tools available for estate planning and who has a solid grasp of which tools are best-suited for which particular circumstances. If you are going through a divorce, make sure that your estate planning attorney knows this and understands what the ramifications may be. Don't overlook the importance of personal qualities as well. A good estate planning attorney will be interested in your wishes, will demonstrate a high degree of sensitivity regarding any family or health concerns you may have, and will be proactive and creative in helping you turn your wishes into reality.
Meeting with an Estate Planning Attorney
You will be able to work more efficiently with an estate planning attorney if you take some time to plan ahead for your first meeting. Collecting documents and making a list of assets and liabilities is critical. One reason that it makes sense to work on estate planning concurrently with divorce planning is that both processes require many of the same documents, allowing you go through the tedious process of collecting documents only once rather than twice. In addition to collecting your documents, make sure that you think about exactly what you are hoping to accomplish. Are you concerned with protecting children or other potential beneficiaries? Do you anticipate dissension in the family over the decisions you are planning to make? Are there potential future events that require contingency planning or periodic review of your plan?