Ceiling Fans
Energy efficient ceiling fans
professional ceiling fan installation across Brisbane and surrounding suburbs. If you're looking for an easy, environmentally friendly and cost-effective way to cool down then speak to us today about installing ceiling fans in your home. Not only can ceiling fans help reduce the temperature in a room by up to 4 degrees but they can increase the efficiency of your air conditioning saving you money. Ceiling fans can also double as great feature pieces in a room and can increase the value of your home.
How does a ceiling fan cool the room?
We're all guilty of running the ceiling fan on a hot day to try and reduce the temperature of the room however your ceiling fan doesn't directly cool the air all by itself.
Ceiling Fan Safety Tips
Be sure that they are turned off if you aren't home
Be mindful of the fan while it is turned on (never throw things in the air or jump on the bed while it is spinning)
Never hang things from a ceiling fan (They aren't designed to be load bearing)
You can install a safety guard on your ceiling fans for an extra precaution
Keeping your ceiling fan clean will ensure maximum performance and lifespan. Here are some easy steps you can follow at home to make sure your fan is in good working order:
Make sure to clean any dust or dirt that is gathered on the ceiling fan blades (while it is turned off) this can be done with a brush or a rag
Ensure you tighten any loose screws which can be found on the fan itself, on the plate that attaches the fan to the ceiling or any screws on the light fixtures on your fan
Check to see if your fan needs oil if it is not self maintaining. This can be done by adding oil to the oil hole near the motor however most fans are self lubricating.
Make sure your fan is not wobbling or shaking, as this means it may need to be balanced or one of the blades may be damaged or warped
The difference between the settings are:
Summer: The fan blades spin in a counterclockwise direction which circulates the air and disperses the breeze to the edges of the room. This makes you feel cooler quicker and it feels like the room temperature lowers.
Winter: In this setting, the fan blades spin clockwise which forces all the warm air that is trapped above the fan and along the ceiling down into the room to mix with the cooler air. To achieve the best results you should keep your fan on low speed in this setting during winter.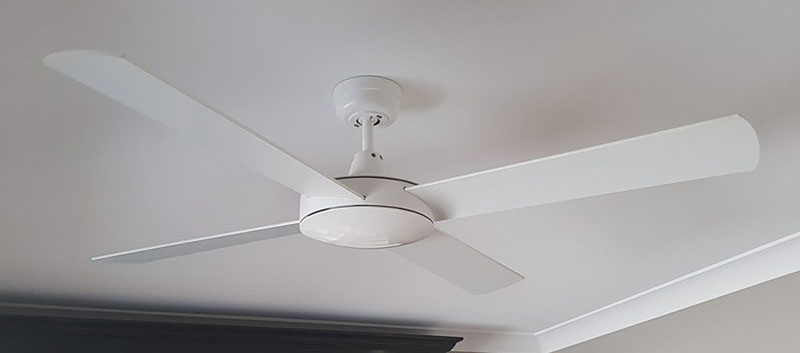 Best ceiling fans: We can help you find the perfect fan to meet your needs
The cost of a ceiling fan can range from $70 to $2,000 or more. When choosing a ceiling fan, you need to know the size of your room and the height of the ceiling. Then you can consider how many blades you want, what material you prefer, how many speeds you need and other important features.
We've narrowed down the seven best choices for budget buyers, high-end fanatics, outdoor spaces, bedrooms, low ceilings and those interested in environmental sustainability. If you're not sure exactly what you're looking for, we'll walk you through the steps to make the right choice to meet your needs.
Our budget pick is the Arlec 120cm White 4 Blade Ceiling Fan with Oyster Light. The Arlec Classic 4 Blade fan retails from Bunnings for only $70
This basic model offers reversible airflow so you can use it to circulate air in any season. The Arlec Classic 4 Blade also includes an in-built oyster light. Keep in mind, the light is not dimmable and bulbs are not included with the fan. While the fan doesn't come with a remote control, you can add one later if you decide it's worth the additional cost or if your budget increases. You can also book your ceiling fan installation at Bunnings. The store offers regular deals on installation for Arlec-brand fans, so make sure you check if there are any upcoming specials before you buy.
Our pick for the best high-end fan is the Big Ass Fans Haiku Series 52. Haiku Series 52 fans come with SenseME technology, which uses sensors to automatically adjust to one of seven different speeds based on environmental conditions.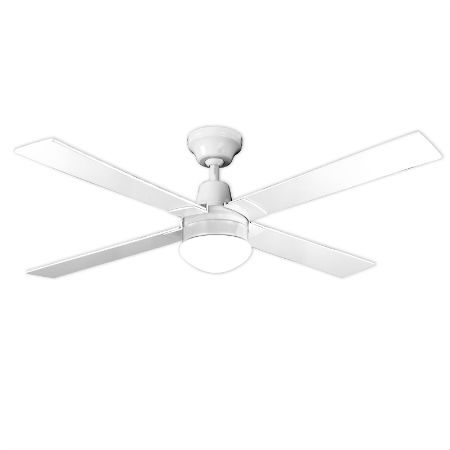 How to Install a Ceiling Fan Where No Fixture Exists
Installing a ceiling fan is actually not as challenging of a project as it may seem, however, if no fixture already exists in the spot where you'd like your new fan to live, the task can be a bit more challenging
Determining Where to Install Your Ceiling Fan
Let's start by deciding where your new ceiling fan will reside. The answer might seem obvious—the center of the ceiling right? Not so fast. Most ceiling fans weigh at least 20 lbs so your new fan will need to be located in between two joists for support.
Keep in mind, what makes a ceiling fan electrical box different from a traditional light fixture box is the bracing. Ceiling fan boxes must include bracing that attaches to the ceiling joists to support the greater weight and vibration that comes with a ceiling fan installation.
Installing Your Ceiling Fan Electrical Box
The process of installing a ceiling fan box involves pushing the bracing and box through the hole you've made in the ceiling and attaching them to the ceiling joists as per the manufacturer's instructions (although very similar not all ceiling boxes are exactly the same).
Running Electrical Wiring to Your New Fan
Before going any further it's very important that we take a moment to address the inherent danger that exists when working with your home's electrical wiring. If at any time you feel unsure of what you are doing it's important to stop and call a certified electrician.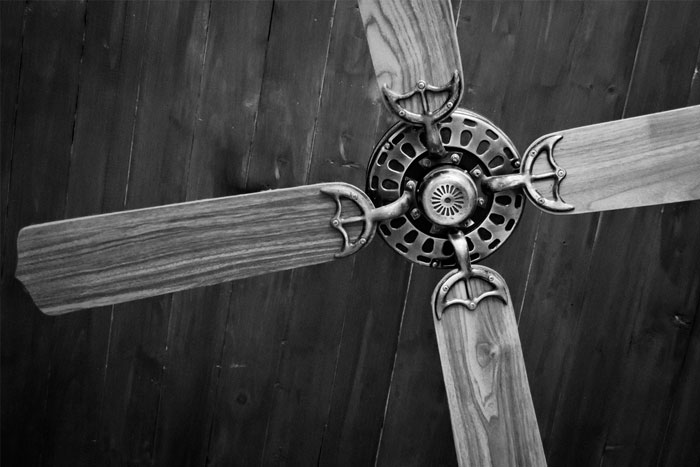 HERE'S HOW: Install a ceiling fan yourself
Before attempting to install it, make sure your husband purchased the correct size for your room. If he bought it at a reputable home center store, they will probably let you exchange it for another if the size is incorrect
As a rule of thumb, use a 36-inch-diameter fan if the largest room dimension is under 12 feet. From 12 to 15 feet, a 42-inch size is best and from 15 to 18 feet, select a 52-inch size. For very large or long narrow rooms, use two smaller ceiling fans.
For a standard ceiling height, the fan kit should come with the proper downrod length to provide at least seven feet of clearance above the floor. Unless your ceilings are unusually low, avoid a ceiling hugger design. The proximity of the blades to the ceiling impede proper airflow.
Putting up a ceiling fan is not a difficult job. Many of the new ceiling fans have an installation hanging hook built into the ceiling mounting. This makes it a one-person job, assuming that you are strong enough to get it up on the hook first.
Do a little stretching first and, even if you are in good shape, plan on having some sore muscles the next day. It is not so much the weight of the unit, but all the twisting and reaching around the motor and blades that is straining.
HOW TO INSTALL A CEILING FAN EQUIPPED
Installing any ceiling fan is usually a very simple process, and it is just as simple when installing a ceiling fan that comes equipped with the more energy efficient DC motor. However, there are some warnings one should know before proceeding and attempting to connect a DC fan to their power source.
CONNECTING A STANDARD AC FAN IS A LITTLE DIFFERENT
In the past, when fans all came equipped with a standard AC motor, many electricians would wire up a ceiling fan without feeling the need to turn off a circuit breaker, or even a wall switch that sends power to the fan.
Although, it is always a good idea to do so, a seasoned electrician understands that as long was they only work with one wire at a time, and the other wires are capped, they aren't really going to have to worry about any sort of electrical shock. They know for a shock to happen they'd have to be touching the metal part of the wire they are working with, while at the same time grounding themselves on something else metal to complete the circuit. Therefore, many times electricians may simply hold the wire by the insulated part (colored coating) and connect one wire at a time. After all, for standard fans we are only talking about one hot wire, one neutral wire, and one ground wire.
Even remote controlled traditional ceiling fans with an AC motor is not much different. The only difference is there is usually a remote receiver that separates the three fan wires from the power wires at the ceiling. On one side of a remote receiver there is usually a blue, a black, and a white wire. Coming from the top of the fan is the same three color wires. One only needs to simply connect those wires together by their color. Then, on the other side of the remote receiver there is always a black wire and a white wire (separate from the side that three black, white, and blue wires are found) and these two wires simply connect to the black wire and the white wire coming out from the ceiling.
NEVER TRY TO WIRE A DC FAN WITH THE CIRCUIT BREAKER ON
A DC ceiling fan is more sensitive when connecting wires, making it a must to have the power turned off before beginning any of the wiring process. It does not matter how comfortable an electrician feels around power, a DC fan is very, very sensitive, and the power must be turned off while making wiring connections. Any slight arc of power or surge during the process can, and probably will, damage the DC ceiling fan's remote receiver. Therefore, power being off before starting the installation is crucial. The reason is that the receiver also contains the converter that will change the home's AC power over to a DC current before that current gets to the fan motor. Due to the complexity of the task the receiver is required to do, the circuitry is more sensitive and care should be taken when wiring.