How to Choose a Kitchen Sink, According to Science
This includes the type, size, number of bowls, material, faucet fitting, and more. If you're remodeling your kitchen from scratch, choosing a customized kitchen sink is more apt. Something that fits well with the ambience and color palette of the kitchen décor.
Choosing a new kitchen sink, as a homeowner, doesn't have to be a price-based decision. You can easily narrow down your options based on the different styles and sizes of kitchen sinks. This guide will help you learn about the basics of kitchen sink and what makes it do functional and versatile in your home.
Looking At Different Sink Types
This is the simplest rundown for the common kitchen sinks types available on the market. You can opt for either on while modelling your kitchen or during renovating. Each kitchen sink type has its pros and cons, so it's best to read through them all to find your most ideal fit.
How Many Sinks Would You Prefer?
The size of your kitchen sink also depends on the number of bowls it has. Based on how often you cook and make use of dishes can you determine the right number for you. The most common kitchen sink, in this regard, would be a large single bowl sink.
Considering The Right Sink Material
With attention to detail, comes selecting a durable and well-finished material for your kitchen sink. Here are some common sink materials to look forward to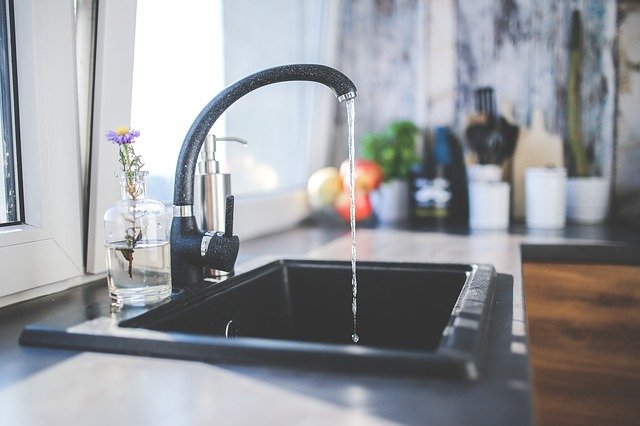 How to Choose the Right Kitchen Sink
Our kitchens are constantly being used and the sink is the first thing that will get worn-out. Naturally, it's easy to get overwhelmed by all the choices. Whether you're remodeling or just getting a sink as a new homeowner, here's how you can narrow down your choices from all the styles and types.
Under Mount
The key behind choosing the right kitchen sink is to evaluate your space and personal needs based on the three main types of sinks. An undermounted sink is installed below a countertop so that the sink drops down. The obvious advantage with this type of sink is that you can wipe a surface down straight into the sink. The under mounted sink is compatible with solid surface countertop materials like granite, soapstone, marble, or concrete with a wide array of durable sinks. Unfortunately, other materials such as laminate or tile counters are not stable enough to support the strength of the sink.
Top Mount or Drop In
Top Mount or Drop In sinks are installed in a hole in your countertop. There is no need for interior support. However, these kinds of sinks are usually very hard to clean.
Cost -Effective Materials
Every sink gets wear and tear, but some sinks get worn down more than others. Keep in mind that stainless steel sinks hold up better than enamel-coated cast iron sinks which often show scratches and signs of wear over time. Granite countertops work well with stainless steel sinks. Although stainless steel sinks can be noisy, homeowners can choose sound-absorption technology to reduce the amount of noise.
Number of Bowls
Knowing your space limitations will determine size and depth which in turn, will determine the number of bowls or basins. Traditionally, most kitchens feature a double-bowl sink, but a single bowl sink might be ideal for smaller kitchens giving a more functional look.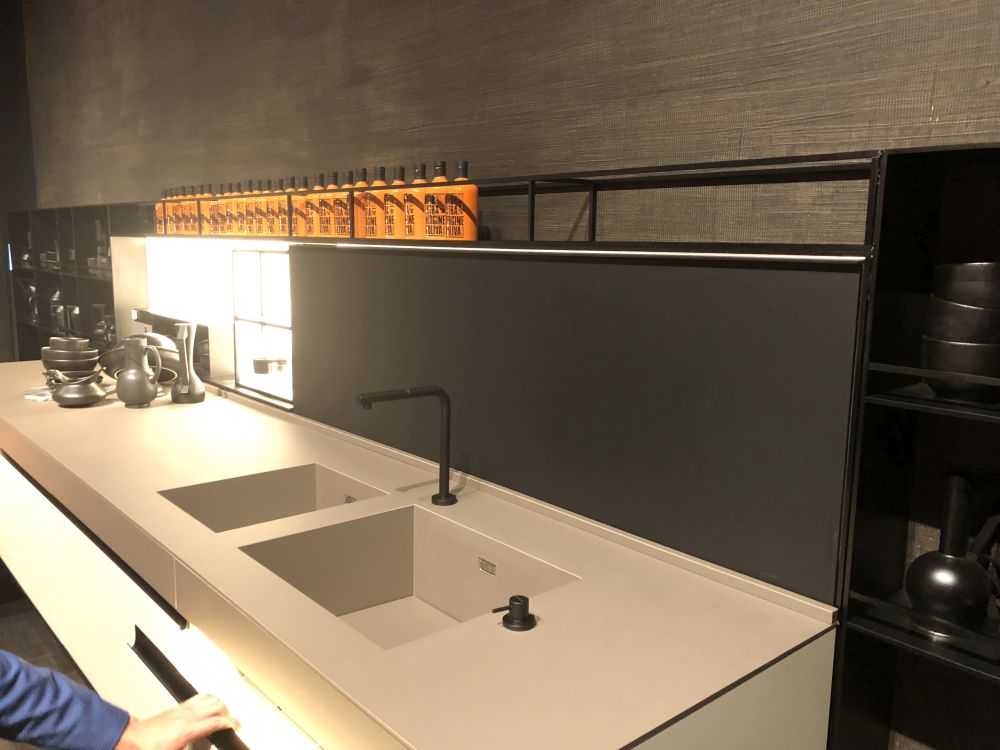 How To Choose The Kitchen Sink That's Right For You
It's important to always do some research before buying an item, whatever it may be. This is especially necessary when you buy something basic that you'll be using for several years to come, like a kitchen sink for example. So where would you start from and how would you organize this major task? We suggest breaking it into subcategories based on the features that matter the most such as size, shape, the material from which the sink is made and the type of installation required. After you've considered all the pros and cons and you've made up your mind regarding these details, you'll be better equipped to choose a kitchen sink that suits you and your home.
When it comes to size, there are two main options to choose from. You can either have a small kitchen sink or a large one. Each of these two types involves a series of subtypes so not all small sinks have the same dimensions and sometimes size is closely linked to other details such as the shape of the sink or the type of installation. In any case, you can usually know right away if your kitchen can accommodate a large sink or not or if you even need one. Be sure to also consider your lifestyle and the way in which you usually use your kitchen. If you have a dishwasher and you're rarely using the sink for other tasks anyway, there's really no point in wasting valuable space
Pick a shape: round sinks
Round sinks are really popular. They look chic and they're pretty versatile as they can hold dishes, pots and pans of all sorts of different shapes and sizes. They're usually not small but not very large either and they come in a variety of different materials with various types of finishes and in all sorts of colors. That means you have plenty of options to choose from once you also decide on the other details related to the sink's design. Keep in mind that round sinks are also usually great for corners in case you're considering such a placement.
Modern, rectangular sinks
Rectangular sinks with sleek, clean lines and minimalist designs are very common in all the contemporary kitchens and they're usually embedded into the countertop. Compared to round sinks, they can be a bit more difficult to clean and less versatile but their biggest advantage is the modern look and you can't argue with that, especially if you want the sink to be built into the kitchen island.
Farmhouse sinks
This style is very recognizable by the distinctive apron front and the vintage vibe that these sinks have. They're rectangular in shape but they have curved edges which soften their look a little bit. Curved sinks are easier to clean than those with sharp lines and angles. Farmhouse sinks don't come in many colors, finishes or materials so you'll be limited to their signature look without the possibility to customize your kitchen decor too much (at least not as far as the sink is concerned).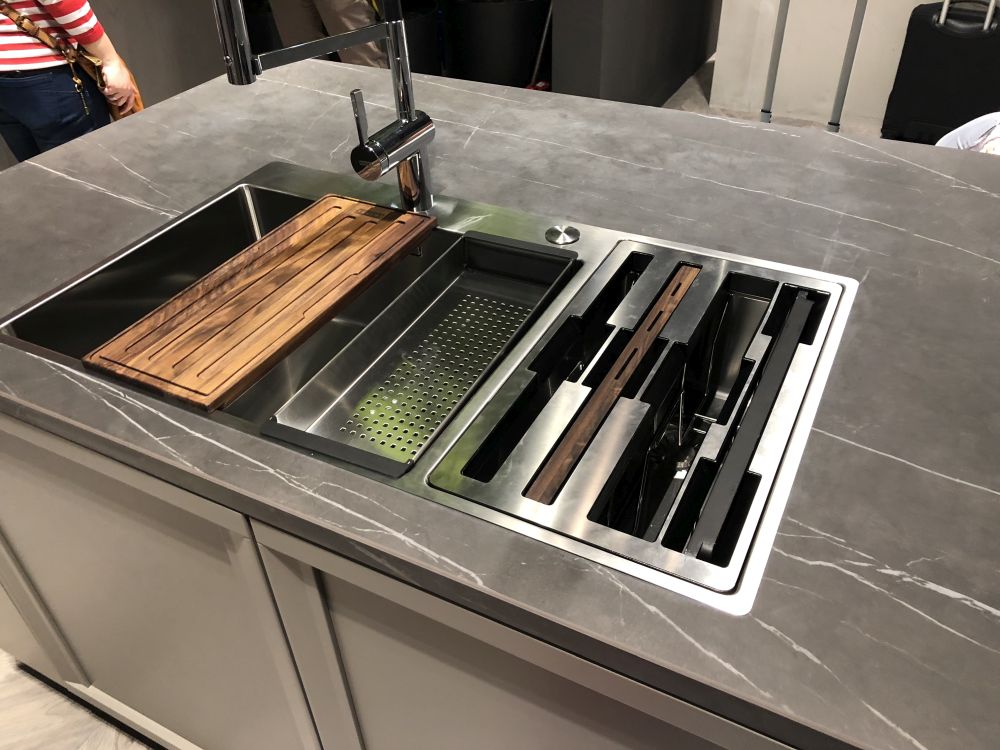 How to choose your kitchen sink.
Choosing the right kitchen sink is one of the most important decisions you can make. Your kitchen sink will have a significant impact on your day to day life, and you want your sink to stand the test of time. Food preparation, cooking, washing and cutting are important tasks which can be very efficient – even enjoyable – when you have the right sink
When is the best time to select a sink?
The ideal time to choose a sink is before the start of any kitchen renovation – before layout design, counter or cabinet selection. If replacing an existing sink, there will be limitations based on the existing sink cutout and cabinet space on what can be selected.
MINIMUM CABINET SIZE:
You need to determine your kitchen cabinet size before you start shopping for your new sink.
Standard kitchen cabinets come in size increments of 3″ (for example: 18″, 21″, 24″ etc.)
All BLANCO sinks indicate the minimum cabinet size requirements.
COUNTERTOP DEPTH:
The size of the sink you choose, will be determined by whether or not your countertop has a backsplash.
LEFT: For laminate countertops with a backsplash, a sink that measures up to 20 ½" (front to back) should fit
RIGHT: For laminate or stone countertops without a backsplash, a sink that measures up to 22" should fit.
SILGRANIT: GRANITE COMPOSITE
Non-porous surface repels dirt and liquids. Offers exceptional resistance to scratches, heat and impact; ideal for heavy kitchen work.
Withstands up to 280°C (536°F) – exceeding common boiling and baking temperature levels. Endures extreme temperature fluctuations between hot and cold.
What to Know About Choosing the Right Size Kitchen Sink
Sink size is a personal choice. If you know your way around a kitchen, and especially if you've worked with different-sized sinks over the years, you probably know what you like. But if you're starting out, we're here to help.
Architect Jerome Buttrick of Buttrick Projects Architecture & Design, a member of the Remodelista Architect and Designer Directory, is based in Oakland, California, and has plenty of experience (he's been practicing for more than 25 years and worked on not one but four renovations with Remodelista founder and editor Julie Carlson). And, for an appliance perspective, we also checked in with Reece Williams, who's handled sales for 20 years at Cherin's Appliance in San Francisco, in business since 1892
Is there a standard sink size for the kitchen?
Both Buttrick and Williams say they're seeing many more single-bowl sinks installed than double-bowl. According to Williams of Cherin's Appliances, customers typically choose a single-bowl dimension of about 28 to 30 inches long, and "they're quite happy with that—it gives them enough room to do two things in the sink at once."
How do I know what size sink I need?
A commercially made single-bowl sink can be as long as 33 inches, while a double-bowl model can reach 48 inches. Either of those takes up a lot of kitchen real estate, so your decision may well be based on how much counter space you can spare. Budget might also help you choose—but in any remodel, sink cost is far from the biggest slice.
What are the pros and cons of a deeper sink?
A number of sinks on the market are two to three inches deeper than the usual eight inches. Depending on the sink's width and length, the extra depth can make it easier to wash oversize pots—which is especially useful for anyone cooking for a big family or a large numbers of guests. (Think of that roasting pan for the holiday turkey.) Another plus: If your sink is visible from the dining table, it's easier to hide the dirty pots and dishes.