Tips for Choosing the Right Auto Repair Shop
When your car needs work, two things come to mind. You want someone who will get the repair done quickly, and most importantly, someone who won't overcharge you for the work. But how do you know which auto repair shops are honest and which ones want to take you for a ride?
Look for Experience – This may sound obvious, but just because a business has been operating for 50 years doesn't mean the same mechanic has been doing all the work. Check out local websites, and don't be afraid to ask how long the head mechanics have been working on vehicles. The more experienced the mechanic, the more likely he's dealt with the exact same issue in the past.
Avoid certain National Chains – Some nationwide garages can offer a quick fix for your vehicle, but similar to the first point, they don't always have the most experience. Many of the national chains have a higher rate of employee turnover than local shops. This may not seem that important, but you'll learn why this is crucial in the next point.
Price Varies – The goal of any successful business is to operate in the green, and that can be hard to do if the company has a high rate of employee turnover. The more people a company hires, the more time they need to spend on training. Who usually does the training? The head mechanics. If a company can't service as many vehicles as normal because a few of their workers quit, or because the lead mechanics are taking time out of their day to train the new hires, the company will be operating at a slimmer margin. The shop then needs to look for a way to make up the difference, and sometimes they achieve this by charging a little bit more for parts or labor.
Read the Reviews – The majority of people now use the Internet to find a trusted auto dealer, and many leave online reviews. Most car repair websites will have page dedicated to their customer reviews, but it's important to remember that the company is the one controlling what is said on the site. Instead, check out the company's Google Review. Based on a 5-point scale, you can see what customers think about the service they received.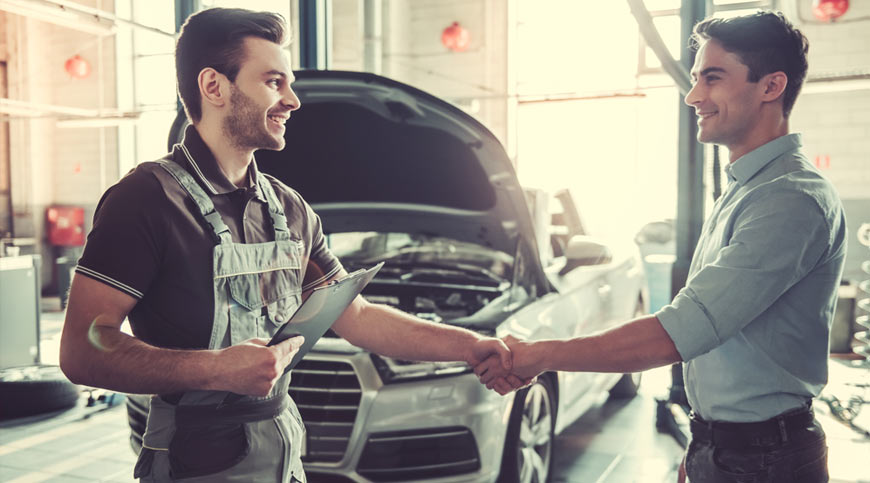 Tips for Selecting Auto Repair Shops
If and when you're dealing with auto repair problems, it can be a time-consuming process finding the right shop, but asking the right questions is key. Learn important tips that will help you select the right shop.
Ask around
Often the best referrals come from your friends and family who have had experience using the mechanics in your area. Getting a word-of-mouth referral from a friend or family member can also mean you'll get an honest insight about their experience with those repair shops, which can help save you money or avoid a scam.
Shop around before an emergency
If your radiator is smoking or your car won't run at all, chances are you are in a hurry to fix the problem. If you are in a rush to get your car to the shop, your judgment might be clouded; this may influence you to make a hasty decision based on needing your car back immediately, rather than saving money and receiving top-notch service.
Don't choose based solely on price
While price may affect your choice, since you want an affordable rate, do not just opt for the cheapest choice. Do your research and compare. The cheapest rate may not always have the worst services; likewise, the most expensive might not offer the highest level of service.
Check online reviews
Your friends and family could have given you great advice about the repair shops that they have used, but they might not have covered all of your options or have had a major automobile issue that needed attention. Look at online reviews for unbiased consumers. Angie's List has a wonderful forum where unbiased consumers share their experience about auto repair shops.
Tips for Choosing the Best Auto Repair Company to Fix Your Car
Our car performs the important function of driving us from one place to another in relative luxury and comfort, but a well-maintained vehicle does more than that; it keeps you safe on the road. A car can protect you and your family from external elements and road hazards. But sometimes, the danger comes from within and it is no one but the car owner's fault. A vehicle that has been neglected and gone a long time without service is sure to have some malfunctioning components that can endanger the life of your family.
License and Certification
Besides shady auto repair services, a lot of people like cars and will offer you a bargain price to fix your vehicle. Don't do it. You should only get your car fixed by a licensed and certified mechanic. When someone other than a qualified auto repair mechanic tinkers with your vehicle, it can void your warranty and can even lead to more problems in the future.
Visit the Staff
One of the best ways to reassure yourself that your car will be in good hands is to simply book a visitation appointment over the phone or through an email. During the visit, judge how the staff is treating you. If they are cordial and cooperative, it means your car will experience the same treatment. If they are impatient and rude, don't trust them with your vehicle.
Check the Reviews
Word-of-mouth and referrals still remain the best form of organic advertising to this day. Now with the internet, it is getting easier and easier to see what others are saying about an organization. At PA Auto Inspection, we encourage our prospective customers to check out what our past customers are saying about us. Our review page is filled with honest testimonials of several happy customers who have had their cars fixed from us with very satisfactory results. You can also check out social media and Yelp reviews to see what people are saying about our service
Pricing
Although there is an industry standard for many types of auto repairs, they can vary a bit from mechanic to mechanic. When you are looking for a good automotive repair and service company, don't be afraid to look around for the ones that give you the best price rather than settle for the first one you see.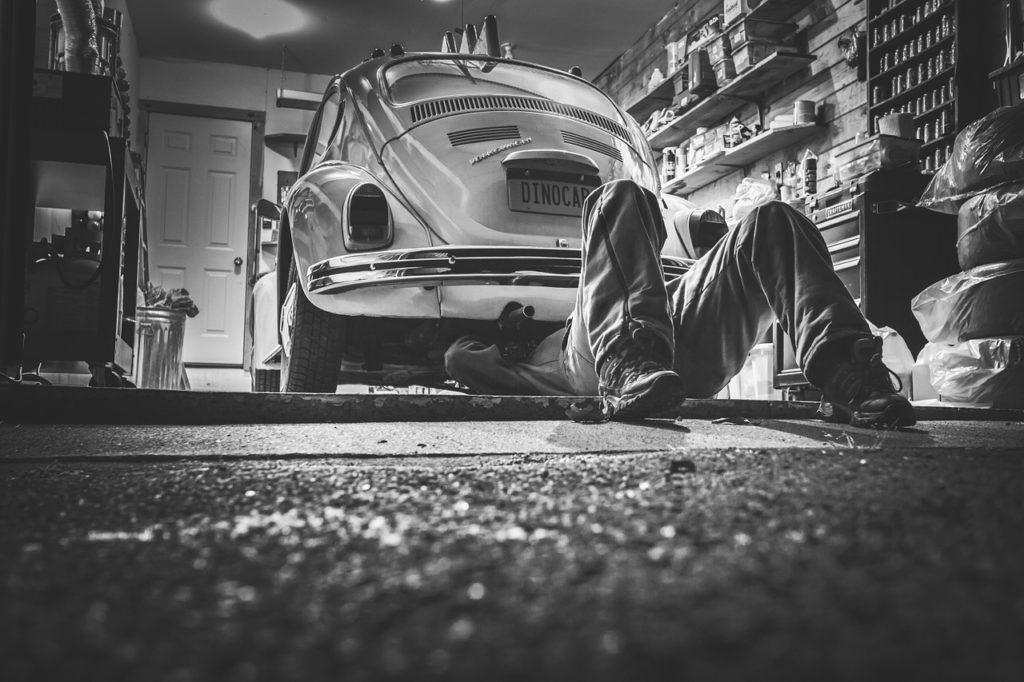 Tips for Choosing a Car Repair Shop
Most people will always have a hard time deciding on which car shop to choose because a wrong choice can be costly. Some car repair shops are in business to take car parts that are new from their clients while they give the old and less efficient car parts. Those are the type of auto repair shops that you need to avoid by all means. This article provides you with essential tips that will enable you to find the right auto repair shop.
Do your Homework
Before choosing an auto repair shop, it is essential to make sure that you are well informed. Ask the people around what they think about the auto repair shop whose services you seek. They will always advise you accordingly. Apart from asking around for more information, you can always do your research on the internet.
Consider Online Reviews
Also, before choosing an auto repair shop, it is important to read online reviews. It is here where you will get all the hidden things that you might want to know about the shop. For instance, if there are people who used the services from the shop and they were dissatisfied for one reason or the other, you will get to know
The Reputation
Great auto shop repair companies will always have a good reputation. This is because they are dedicated to offering quality services to their clients. They know that if they fail to serve their clients right, they are not going to get many customers as they would have wished. Checking the online reviews will always tell you more about the reputation of the company.
Experience
When looking for car repair shops, it is a good idea that you choose the one that has a good experience. This is important because, through the experience of handling different cars, it means that they have skills that they can use to solve any problem. You would not want to give your precious car to people who might end up interfering with it one or the other.
Tips for Choosing the Right Auto Repair Shop
Auto repairs are can be both costly and unavoidable. When the time comes that your vehicle needs service, you need to bring it to an auto repair shop, MD that's reliable and trustworthy. After all, you spend a good amount of time in your car, you need to make sure whoever keeps it running keeps it running right!
1. Ask friends and family for their recommendations. After all, it's often their opinions that you value most, and unless asked directly, most people won't offer their advice on their favorite shop or mechanic, it's just not the most interesting topic!
2. Choose an auto repair shop before major repairs are needed. It's a lot easier to choose a shop without the pressure of needing immediate repairs. It also gives you time to better weigh your options.
3. Pick a shop that employs ASE Certified Technicians. ASE Certified Technicians are mechanics who have gone through rigorous training and testing to be experts in their automotive fields. You can trust they will take good care of your automobile.
4. Make sure the auto shop your choose works on your make and model of vehicle. Some repair shops are specialized, so be sure that the shop you choose has mechanics that are certified to work on your type of vehicle.
5. See if the shop has transportation options available. In the case that a major repair arises, can the shop give you a lift back home or to the office? Many auto repair shops will accommodate your transportation needs (within reason), so be sure to call and ask if a free local shuttle service or loaner cars are available.
6. Make sure the shop will honor your vehicle's warranty. Most independent auto repair shops will honor vehicle warranties, but it's too important of a topic not to ask directly.
7. Ensure the shop guarantees their services. Nowadays, you should never choose a shop that does not stand behind the car repair or maintenance services they provide. Ask about the warranty options the shop provides.