Caring for your Sofa
You've chosen your sofa, and it's looking right at home in your living room. Now we want to make sure that it's there for all of life's moments. Daily life can expose your sofa to many things, but there are a few sofa care tips you can follow to ensure your sofa remains looking like new.
Upholstery fabric cannot be cleaned in the washing machine. By vacuuming and brushing your furniture frequently, it minimises the chance of dust particles settling and affecting the durability and colour of the fabric. To keep your sofa in the very best condition, we recommend an in-situ professional upholstery cleaning every 18 months. With emergencies, such as drink or food stains, a local specialist cleaning company should be contacted for advice on how to proceed.
If you have young children, sticky fingers and biscuit crumbs are likely, so investing in an easy-to-clean sofa with durable and hardwearing fabric is a must. It is important to remove stains before they sink in. Use a slightly damp, clean cloth (preferably muslin) to blot any spills as quickly as possible, but do not scrub the stain as this will risk damaging the pile, particularly on velvet fabrics. If too much water is used, it can result in watermarks and discolouration. We strongly recommend not using a cleaning solution on any upholstery.
Although our furry friends are integral to the family, they can affect the appearance of a sofa with their fur, claws and mucky paws. Durable fabrics are important in this instance where fur can be easily brushed off with a furniture brush, and any dirt can quickly be wiped clean.
Linen is a lightweight, natural fabric that will crease and stretch over time, adding to its charm and character. Like all sofas, you should vacuum dust and crumbs regularly to prevent further damage and keep the fabric clean. Linen is a highly absorbent, natural fibre, so for most spills we would recommend calling an upholstery cleaning specialist to your home to avoid further damage. We suggest choosing linen for slouchy, relaxed style sofas as the natural stretching of the fabric will contribute to the relaxed look and be less noticeable in comparison to a sleek, firm sofa shape. Always position furniture away from direct sunlight.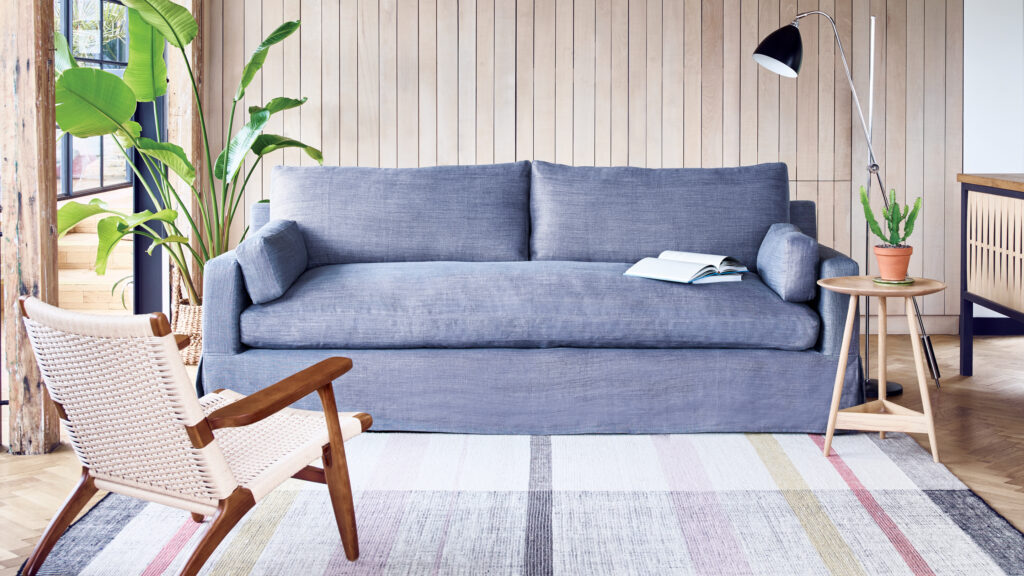 FURNITURE CARE
Periodically, lightly brush or vacuum the upholstery to remove soil particles and dust and prevent them from imbedding between fibers.
Turn and rotate cushions after vacuuming to prevent excessive wear and soil deposits.
Avoid placing newspaper on fabric. The ink will permanently stain and discolor the material.
Keep fabrics away from direct sunlight if possible.
Do not use acids, dyes, paints or nail polish near fabrics.
Do not cover fabrics with darker fabrics when having work done in the home, since dyes may rub off.
Liquid spills should be absorbed immediately. Blot with white absorbent cloth or paper towel.
Spills such as jelly or soft spills should be scooped up with a soft edge spoon. If the spill has dried up, scoop it gently and vacuum the rest.
Never throw your fabric in the washer or dryer unless the fabric says it is machine washable. Remove the pillow forms before washing.
To spot clean, always test an area of the fabric that is not seen first, such as under a chair/sofa skirt. Let it dry, and then proceed if the results are positive. Do not oversaturate an area with any cleaning solutions.
Do not rub strongly and try not to let a stain dry.
Professional cleaning will prevent the gradual buildup of dirt and grime, but discuss with the dry cleaner any fire retardant finishes that may not endure through some methods of cleaning.
FABRIC CODES DETERMINE METHOD OF CLEANING
CODE CLEANING METHOD
W To prevent overall soil, frequent vacuuming or light brushing to remove dust and grime is recommended. Spot clean, using the foam only from a water-based cleaning agent such as a mild detergent or non-solvent upholstery shampoo product. Apply foam with a soft brush in a circular motion. Vacuum when dry. Pre-test a small area before proceeding. Use a professional furniture cleaning service when an overall soiled condition has been reached.
S To prevent overall soil, frequent vacuuming or light brushing to remove dust and grime is recommended. Spot clean, using a mild water-free solvent or dry cleaning product. Clean only in a well ventilated room and AVOID any product containing Carbon Tetrachloride which is highly toxic. Pre-test a small area before proceeding. Cleaning by a professional furniture service is recommended.
S-W To prevent overall soil, frequent vacuuming or light brushing to remove dust and grime is recommended. Spot clean, with a mild solvent, an upholstery shampoo or the foam from a mild detergent. When using a solvent or dry cleaning product, follow instructions carefully and clean only in a well ventilated room. AVOID any product containing Carbon Tetrachloride which is highly toxic. With either method, pre-test a small area before proceeding. Use a professional furniture cleaning service when an overall soiled condition has been reached.
X Clean this fabric only by vacuuming or light brushing to prevent accumulation of dust or grime. Water-based foam cleaners or solvent-based cleaning agents of any may cause excessive shrinking, staining or distortion of the surface pile and, therefore, should not be used.
Prepare Upholstery for Cleaning
Prepare surface for cleaning by thoroughly vacuuming or brushing. Set up the machine, directing your attention to the hose connections at the rear.
Set Up
First, pull free the top portion of the large vacuum hose at the back of the machine. Then connect the top portion of the machine vacuum hose to the vacuum hose of the Hand Tool. Next, screw brass connection to small diversion valve, ensure it is on tightly to engage.
Remove the UPPER (white) tank. Mix Upholstery Cleaner with water in a clean bucket according to the label directions and POUR into the LOWER red tank.
Fit Upper white tank back in place, seal tank and clear dome securely by replacing restraining wire.
Plug in the power cord and position the machine. Refer to the label on top of machine and turn the machine ON for upholstery cleaning.
TEST for colourfastness by first cleaning a small, hidden area, then rub the test area with a white towel. If no colour appears, continue cleaning. A little colour on the towel means there's some chance of colour running, but you probably can still clean safely. Dry cushions on sheets or towels laid out on the floor.
Start Cleaning
Working at a slow, steady pace, begin cleaning by squeezing the hand tool lever as you pull the tool over fabric. Overlap strokes slightly. IMPORTANT: Do NOT depress the button on machine handle while using the hand tool.
If foam builds up around the hand tool, pull a little bit faster or vacuum excess solution by passing over area a second time without squeezing lever.
When cleaning is complete, disconnect the upholstery tool then empty any remaining solution by taking the machine outside or over drain and turn machine ON for upholstery, this will empty lower tank.
Before returning to store, ensure machine is cleaned according to instructions at back of machine and vacuum hose is securely reconnected. Switch should be in OFF position.
NOTE: For velvet upholstery, fluff up damp pile with a soft brush or towel to keep from matting.
Understanding Upholstery Cleaning Codes
Checking the Upholstery Cleaning Codes before doing any kind of upholstery cleaning is vital. You need to check the manufacturer's instructions on how it should be cleaned or whether it can even be cleaned. Certain types of Fibres will respond differently to certain Upholstery Cleaning methods. Typically, manufacturers use standard upholstery cleaning codes to advise on the appropriate cleaning method for the fabric on your furniture.
It should be noted that Upholstery Cleaning Codes must not be confused with upholstery wearability codes or grades which usually refer to something known as a Double Rub Count. Double Rub equates to the durability of the fabric of your upholstery and is different from upholstery cleaning codes. Wearability codes are something to consider when purchasing new furniture.
A word of caution
Do-it-yourself upholstery cleaning should only be done on lightly soiled furniture in accordance with the codes. Codes address spot cleaning and results cannot be guaranteed. Always test a small out-of-site area first to ensure you don't make the look of that couch or armchair worse than it might already be.
What are the Upholstery Cleaning Codes?
Standard upholstery cleaning codes are: W, S, WS and X.
W for Wet.
S for Solvent.
WS for Wet and Solvent.
X for Vacuum only and sometimes you may see D for Dry Clean only.
Where to find the Upholstery Cleaning Codes?
The codes will be on a tag or label attached to the furniture. You'll usually find the tag on the base of the sofa or armchair under the seat cushions. Alternatively it may be completely underneath the frame. Or on the side near the arm rest
What do the Upholstery Cleaning Codes mean?
W (Wet) – W refers to Water-based Cleaning. Spot clean with water only. Distilled water is ideal. To simply dab spots use a clean white or cream towel. Avoid colored cloths that might bleed their color onto the fabric.
Your Upholstery Fabric might be amenable to Professional Water Based Cleaning such as Hot Water extraction or Steam Cleaning but consult with a trustworthy cleaning service company who will give you an honest answer as to whether your décor is agreeable to steam cleaning.
S (Solvent) – Water is a bad idea and should be avoided. It may leave water marks. It could also damage the fabric through shrinking or bleeding. Instead the fabric must be dry cleaned with a solvent based cleaning product. Appropriate Solvents help to break down grease spots leaving the area dry. After application, the fabric should be vacuumed. Ensure there is plenty of room ventilation when using solvents and make sure you use one designated specifically for upholstery. Read the instructions and follow them carefully.
WS (Wet and Solvent) – WS means the fabric allows for both Wet and Solvent Cleaning but it depends on the stain needing attention. Is the stain oil based or water based? Professional Upholstery Cleaning may be more appropriate for this code but it depends on the fibres
X (No Cleaning/Vacuum only) – Unfortunately this means your beloved piece of furniture should not be cleaned. And this is for sure something you should check for when buying a new item for your home.
Step Guide To Cleaning A Sofa
Professional Upholstery Cleaning – Sofas and chairs are not only vulnerable to surface stains, dust, and dirt, but grime can become deeply embedded into the fibres, too. Even if you can't see the dirt, it's there, so for cleanliness and hygiene's sake, cleaning upholstery on a regular basis is very important – but it doesn't have to be difficult.
If your sofas and chairs have removable covers, upholstery cleaning is simple: put them through the washing machine, or pop them down to the dry cleaners – just follow the instructions on the label. If your covers are not removable, however, you'll need some suitable upholstery cleaning products and easy methods to tackle the stains and dirt. Here's how to clean upholstery swiftly and effectively – leaving you time for more relaxing activities.
Which Upholstery Cleaning Products Should I Use?
You can buy upholstery cleaning products from most stores, but there are other products that you can find around the home that will also help to get your sofas and chairs clean.
Mild laundry detergent and warm water, mixed well to create suds.
White vinegar: This is a good choice for removing surface stains, but you'll want to use a soapy solution afterwards to give the area an intensive clean. You'll also want to air the sofa as much as possible afterwards by opening windows or by using a fan to help reduce the smell of the vinegar.
Baby wipes are ideal for spot-cleaning upholstery. They're very gentle, so they won't damage the material, and they're relatively dry, so there's no chance of over-saturating your furniture.
How To Clean Upholstery In 4 Steps
Furniture cleaning isn't a science: try out a few techniques before choosing the one that is right for your belongings. This step-by-step guide explains how to clean a sofa:
Before using any upholstery cleaning products, vacuum the sofa or chair first to remove as much surface dirt and dust as possible. Be sure to use the correct attachments to avoid damage to the material – a soft brush attachment is ideal.
Spot Clean. Using baby wipes or vinegar poured onto a strong microfiber cloth, apply to any obvious stains, wiping gently as you go. Remember to test the upholstery cleaning products on an inconspicuous area first.
Overall Clean. Using soapy water and a microfibre cloth, gently wipe your sofa with the solution, allowing it to soak into the fabric and tackle the dirt beneath the surface. You only want to use a very small amount of water – don't saturate the material.
Dry. Some people use a hairdryer to quickly dry a sofa, but allowing it to dry naturally is always the better option, if you have the time. To speed things up, open windows and allow the breeze to help with the drying process.